Dr. Kerrigan Becomes First in Area to Complete Advanced Procedure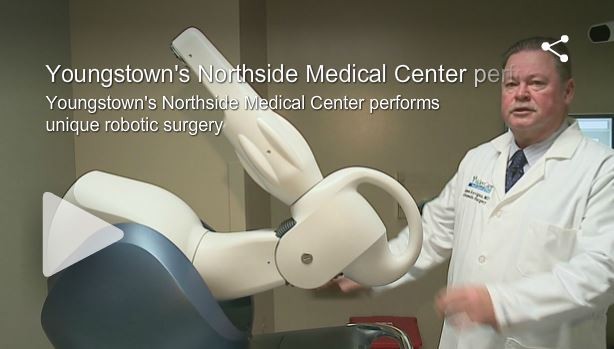 Dr. James Kerrigan has been a proud partner of Youngstown Orthopaedic Associates since the late 1980's. He continues expanding his horizon with the renowned MAKO robotic arm to perform minimally-invasive total hip replacement surgery.
The robot allows physicians to use computer-aided precision to position hip replacement implants, the medical devices intended to restore mobility and relieve pain usually associated with arthritis and hip disease or injury.
According to ValleyCare, the robotic technology allows surgeons to place hip components with increased accuracy, decrease the risk of hip dislocation and obtain better leg symmetry — taking the guesswork out of correcting length loss.
Dr. James Kerrigan is the only orthopedic surgeon in the region trained to use the system. He completes about 100 hip replacement surgeries per year, and he has completed nine so far with the robotic system. Eight patients, he said, have come back with minimal pain and were walking with no assistance. He has yet to see patient number nine, and he will complete his 10th surgery with the system on Tuesday.
"We all feel like we do this well enough that we don't need a robot to help us. However, as I trained on this and then used it in person, I am absolutely shocked with the precision that this robot allows you to put the prostheses in exactly where you want it," he said.
The surgical treatment may be an option for those who suffer from either non-inflammatory or inflammatory degenerative joint disease, according to the hospital.
Northside Medical Center recently began performing minimally invasive hip replacement with the aid of a Robotic arm.
Please use the link below to view the entire interview.
http://wkbn.com/2015/10/12/youngstowns-northside-medical-center-performs-robotic-surgery