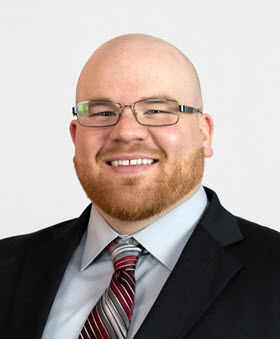 Youngstown Orthopaedic Associates would like to officially welcome Dr. Matthew McElroy to our practice! Dr. Matthew McElroy is a board certified physiatrist and is fellowship trained in interventional spine and sports medicine. He specializes in the treatment of spine and joint related pain as well as electro-diagnostic medicine.
Dr. McElroy's areas of interest include acute and chronic pain related to small and large joint pathology, spine pathology including cervical, thoracic and lumbar areas, as well as disorders of the nervous and musculoskeletal systems.
His goal is to help alleviate his patients' acute and chronic pain issues utilizing various conventional and cutting ecdge inteventions, including but not limited to Epidural Steroid Injections, Intracept® Procedure, Superion® Interspinous Spacer, Spinal Cord Stimulators, Kyphoplasty/
Vertebroplasty, Sympathetic Blocks, Radiofrequency Ablation, Ultrasound Guided Injections, and regenerative medicine such as Platelet Rich Plasma and Stem Cells.
Prior to joining YOA, Dr. McElroy received his medical degree from Northeast Ohio Medical University. He then went on to complete his residency in Physical Medicine and Rehabilitation at Albany Medical Center in Albany, New York. To further his training he completed an Interventional Spine and Sports Medicine fellowship at the Alabama Orthopedic Spine and Sports facility in Birmingham, Alabama where he trained in interventions for the treatment of acute and chronic pain.
He is a member of multiple medical associations including the American Medical Association, American Academy of Physical Medicine and Rehabilitation, Spine Intervention Society, and the North American Spinal Society.
Dr. McElroy was raised in Poland, Ohio since the age of 2 and is very excited to have the opportunity to care for and improve the lives of patients in and around his hometown.
In his free time Dr. McElroy enjoys spending time with his family and friends, as well as playing tennis, golf, powerlifting and watching his favorite college and professional sports teams – Believeland"
Dr. McElroy is now accepting new patients and will begin seeing patients in the Boardman and Howland locations the week of March 2. To schedule an appointment with Dr. McElroy, please contact us at 330-758-0577.