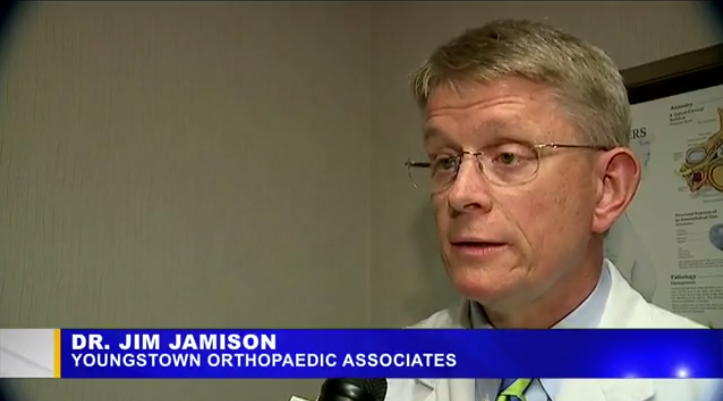 Youngstown Orthopaedic Associates, the region's largest orthopaedic surgery practice, has opened an orthopaedic-focused urgent care center in Boardman.
Located at YOA's Building B, 1499 Boardman-Canfield Road, the center provides timely and specialized care for people with orthopaedic injuries in need of immediate attention. Those include sports injuries, workers' compensation injuries, dislocations, fractures, strains, sprains and any muscle, bone or joint injuries.
View news coverage by WFMJ-TV Channel 21 on the station's website.
"Our specialized team will fill a gap in care," said Dr. Thomas A. Joseph, an orthopaedic surgeon and YOA partner. "With our focus on timely treatment of urgent orthopaedic injuries, we will provide an alternative to the usual lengthy emergency room visit."
The new center also provides X-ray and magnetic resonance imaging (MRI) services.
It is open Monday through Friday from 12 noon to 8 p.m. and on Saturdays from 9 a.m. to 2 p.m. It is closed on Sundays.
The center serves patients 13 years of age and older and is focused on urgent orthopaedic injuries. Patients with other medical emergencies and younger patients should contact their primary care physician or visit a local emergency room.
The center's medical team is led by Bohdan Ploskodniak, a career orthopaedic physician's assistant. Before joining YOA, he served as an orthopaedic PA at Pine Ridge Hospital in Pine Ridge, S.D., serving with the U.S. government's Indian Health Service.
Ploskodniak has also filled in physician's assistant roles at health centers in Akron, Columbus, Elyria and Sandusky in Ohio, as well as in Wyoming, New Mexico and New York. He holds a Master of Science degree in physician assistant studies from Touro College in Bay Shore, N.Y., and a Bachelor of Science degree in applied sciences from Youngstown State University.
Youngstown Orthopaedic Associates offers complete care for all orthopaedic problems. Services include physical therapy, hand therapy, casting, bracing, X-Ray and MRI imaging services. More information is available at www.youngstownortho.com.
Contact number: (330)729-2723