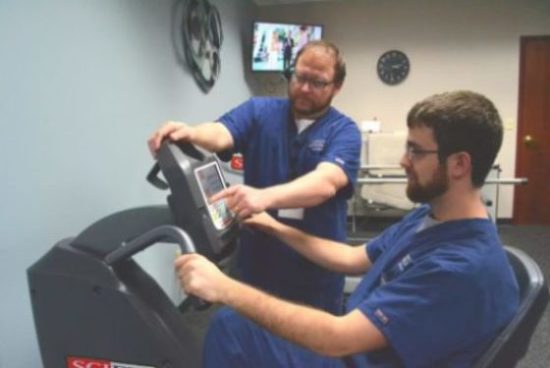 Physical therapy patients of Youngstown Orthopaedic Associates who live in Trumbull County now have a shorter distance to travel for their rehabilitation services.
The YOA facility on Niles-Cortland Road (State Route 46) in Howland, which opened last October, has state-of-the-art rehab equipment that allows for new physical therapy services.
"We have a large population of patients who had to travel to Canfield for their rehab, and that was too far for many of them," said Ron Santiago, physical and occupational therapy manager at the facility. "Now we're able to reach more people that may have decided to start therapy elsewhere."
Among the new services the Howland Office offers is a recumbent bicycle for patients unable to use a stationary bike due to back issues.
"It supports the back much better and improves posture," Ron said.
Another device, the Plyometric Rebounder, resembles a diagonal trampoline. Plyometrics are exercises in which muscles exert maximum force in short intervals to build strength and speed. The rebounder "tosses back" a thrown foam-based ball to the patient who continues to pitch and catch at a rapid pace for several minutes.
Other rehabilitation service equipment includes an upper body ergometer to improve range of motion and endurance and a weighted pulley system to build up lower and upper extremities.
YOA surgeons closely monitor all rehabilitation services, Ron said. He said the patients like the equipment in general — and the location in particular.
"They love the fact that we came out here and made it a lot easier for them," he said.