When it comes to treatment for sports injuries, Dr. Thomas Joseph an orthopedic surgeon at Youngstown Orthopaedic Associates, believes athletes don't need to be elite in order to receive specialty care.
"The great thing is that when it comes to our surgical treatment of patients, whether an elite athlete or weekend warrior, they all benefit from the same techniques and approaches," said Dr. Joseph, who specializes in sports medicine at YOA. "The profession of medicine is ever-changing and we're always working toward improvements in the care of patients."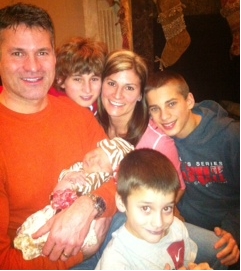 Throughout his career as an orthopedic surgeon, Dr. Joseph has treated some our nation's most elite athletes, including those competing in professional football and baseball and members of the United States Olympic ski team. He gained this experience while completing a sports medicine fellowship at the renown Steadman-Hawkins Clinic in Vail, Colo., The clinic was named after pioneering orthopedic surgeons Dr. Richard Steadman and Dr. Richard Hawkins.
Prior to the fellowship, Dr. Joseph graduated from John Carroll University, Cleveland in 1992 and received his medical degree from The Ohio State University in 1996. He completed his orthopedic surgery residency at The Cleveland Clinic Foundation in 2001 and joined the YOA staff in 2002.
Dr. Joseph is a sports medicine specialist whose practice focuses on arthroscopic and reconstructive shoulder, elbow and knee surgery. Specific interests include knee ligament reconstruction, rotator cuff repair and shoulder instability.
"I was impressed by the quality of subspecialty orthopedic care that was being provided by Youngstown Orthopaedic Associates," said Dr. Joseph, who returned to the Valley where he and his wife were raised. "They already had a team of highly skilled orthopedic surgeons that were trained at some of the best programs in the country for sports medicine, hand and shoulder surgery, hip and knee replacement, foot and ankle surgery and spine surgery. I wanted to be part of that team."
Dr. Joseph first became interested in sports medicine during college when he read about a bodybuilder who tore his pectoralis tendon (chest muscle) lifting weights. This created weakness and a visible deformity that was corrected by surgical repair.
During his residency, he completed a case report on a novel surgical technique for repairing that specific type of injury, and ironically, tore the same muscle years later.
In his practice at YOA, Dr. Joseph sees a high percentage of active people over age 40 who are injured as the result of age-related tissue changes and degeneration. Although some of these injuries can be prevented, others occur due to natural age-related tissue degeneration.
"We can maximize our health and fitness by eating well, watching our weight and exercising regularly, but there are some things we just can't change," he explained. "Instead, we need to recognize that we're not 20 anymore and make changes to our workout routines if we wish to remain active and avoid injury."
Dr. Joseph believes that orthopedic medicine is ever-changing and that he and his colleagues at YOA are always working toward improvement in patient care by offering state of the art diagnostics, rehabilitation, and surgical treatment when necessary.
"At YOA, we pride ourselves on being able to provide one-stop shopping for orthopedic and musculoskeletal care," he explained. "We have one of the highest quality digital imaging centers in northeastern Ohio, including a brand new Digital U-arm X-ray machine, a 1.5 tesla Green MRI and a Sonosite ultrasound unit.
"We also have a DME (Durable Medical Equipment) department that provides a variety of bracing, a team of cast technicians, and a physical and occupational therapy department that specializes almost exclusively in orthopedic rehabilitation.
"We're always looking for ways to improve outcomes and improve healing. For the past two decades, emphasis has been on improving surgical technique and rehabilitation. This next decade will be about improving healing on a biological level."
Outside the office, Dr. Joseph is very involved with his family and in the community. He is active in his church, St. Maron Parish, and enjoys watching his children compete in sports. He and his wife, Kristen, are parents to Anthony (15), Dominic (13), Nicholas (7) and Julianna (1).
His personal hobbies include hunting, fishing and snow skiing. As an orthopedic surgeon and patient, he appreciates first-hand the importance of maintaining musculoskeletal health.