Surgeons at Youngstown Orthopaedic Associates are using new robotic-arm technology to perform partial and total knee and total hip replacement surgeries.
Dr. Seth Kuwik is among the YOA surgeons who use a new Mako robotic arm at Trumbull Memorial Hospital, the only hospital in the Youngstown area with this equipment. Dr. James Kerrigan and Dr. David Weimer are also certified to use the Mako robot.
"Robotic technology provides us with a tool that allows us to place components exactly where we plan to place them," said Dr. Seth Kuwik, a surgeon with Youngstown Orthopaedic Associates.
Many adults over the age of 50 experience arthritis, bone disease or cartilage deterioration, requiring knee or hip replacement surgery.
Precision is a key factor in any joint replacement. Orthopaedic surgeons must sculpt the patient's bone and remove as little healthy tissue as possible.
Robotic arm-assisted surgery provides an innovative alternative to conventional joint replacement surgery.
Dr. Kuwik has been trained and certified to perform robotic-assisted joint replacement surgeries since his fellowship at Lenox Hill Hospital in New York in 2015.
"The [conventional] way we used to do total knees is still effective," said Dr. Kuwik. "But this tool allows you to be more precise and gives you a more reproducible total joint."
Dr. Kuwik uses the Mako robotic arm for all partial knee and total hip surgeries he performs at Trumbull.
"First we do a CT scan of the hip or knee, so that we can create a digital model and we can template the implants," he explained. "Everything is customized to the patient's anatomy and we create their unique plan before going into surgery."
The benefit of the Mako software is the ability to create a pre-operative plan by pre-defining boundaries and allowing for more accuracy and alignment of the implant, Dr. Kuwik explained.
Surgeons are able to control and adjust the plan accordingly as they operate.
"There's also the potential for a faster recovery, because the pre-planning process allows you to more effectively prepare bone cuts and do soft tissue releases," Dr. Kuwik said.
"My philosophy is, if you can do it better, then why wouldn't you?"
More information about the Mako robotic-assisted arm is available from its manufacturer, Stryker, at its website.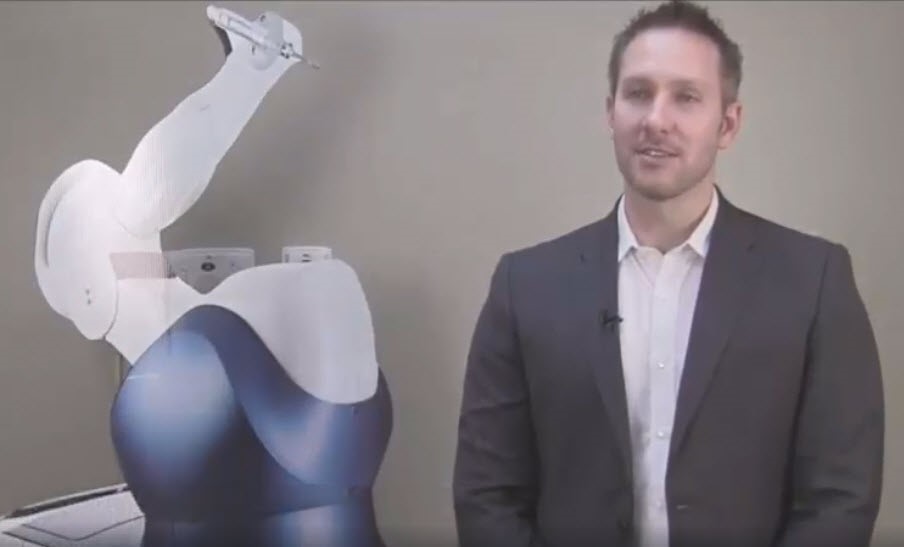 Pictured is Dr. Seth Kuwik next to the Mako robotic-assisted arm.