Post-Surgery Questions & Answers
Here are some questions commonly asked following hip and knee replacement, along with answers.
When do I schedule my first appointment after surgery?
First post-operative appointments are scheduled approximately 2-3 weeks after surgery. These appointments are usually made at the time of your pre-operative visit. Contact Gina at 330.758.0577 Ext 1401 or gficorelli@youngstownortho.com to make your appointment.
When can I shower after surgery?
You may shower as soon as you return home. The surgical bandage/dressing is water-resistant. It is OK to get your bandage wet in the shower. The dressing is typically removed 2 weeks after surgery. Please note: avoid soaking the incision in the bath, pool or hot tub for 6 weeks from surgery.
Do I need to clean the incision?
Once the surgical dressing is removed 2 weeks after surgery, the incision is to be cleansed with warm water and your usual bathing soap. Avoid placing any creams or topical agents directly over the incision for 3 weeks. Cover the incision with a dry bandage, changing it daily, if there is any drainage.
When can I stop wearing the stockings?
Stockings are to be removed every evening before bed and re-applied in the morning. We recommend you wear the compression stockings for 2 weeks following surgery. They can be discontinued after 2 weeks.
When can I drive?
Following hip replacement, you may drive 2-3 weeks after surgery. Avoid taking pain medication before driving. Following knee replacement, you may drive approximately 4-6 weeks after surgery.
When do I start physical therapy / rehabilitation?
Most patients return home 1 to 3 days following surgery. We will make arrangements for you to receive home physical therapy and nursing care during your hospital stay. Outpatient physical therapy will usually begin 2 weeks after surgery. Dr. Weimer will provide you with a physical therapy prescription at your first post-operative appointment.
What blood thinner will I be on and for how long after surgery?
This protocol will be individualized by your surgeon based on your medical profile. For most patients, low dose (81 mg) aspirin will be prescribed twice daily for 30 days. In high-risk patients, we typically use Eliquis 2.5 mg twice daily for 30 days. If you are already using a blood thinner, we will have you restart your usual medication following your procedure.
Are there restrictions as to the position I sleep in after surgery?
You may sleep on your back (supine) or on either side with a pillow between your legs. Avoid sleeping on your stomach during the first 6 weeks following surgery.
Can I resume sexual activity following hip or knee replacement?
The American Association of Hip & Knee Surgeons provides this useful information: Returning to Sexual Activity Following Total Hip and Knee Replacement
What sports can I resume following hip or knee replacement?
In general, high impact activities such as running and jumping are to be avoided to reduce stress on your implant, which could lead to premature failure. The following table illustrates general consensus information regarding participation in sports gathered from a large group of hip and knee surgeons.
THA = Total Hip Arthroplasty (Replacement); TKA = Total Knee Arthroplasty (Replacement)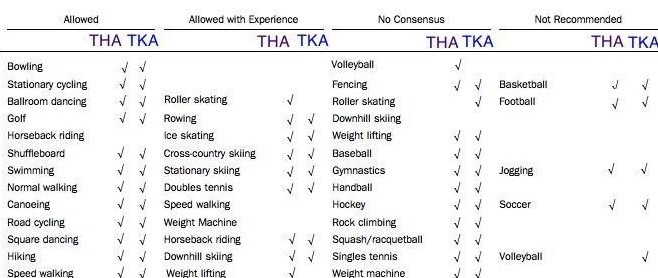 Will my joint replacement set off the metal detector at the airport?
This is a very common question. In most cases, your implant will set off the metal detector. An implant card will be provided to you at the time of surgical scheduling. Please reference the following information and short video from the American Association of Hip and Knee Surgeons for more information: Will My Artificial Joint Set Off Airport Security Metal Detectors?
Where can I read further about hip and knee replacement surgery?
We recommend these sections from the website of the American Association of Hip and Knee Surgeons: