As if being in pain isn't enough, going through the process of an MRI can be difficult, intimidating and a little bit scary.
Youngstown Orthopaedic Associates offers state-of-the-art equipment and an experienced imaging staff to make the procedure safer, more comfortable and accurate.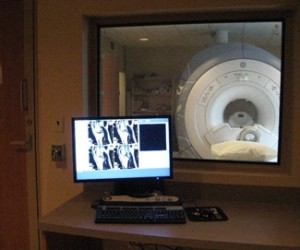 Magnetic Resonance Imaging (MRI) is a noninvasive diagnostic procedure that uses magnetic fields and radio frequencies to generate detailed anatomical and functional images. These tests have been performed safely and successfully for more than 20 years.
MRI scans have an advantage over other forms of scanning because they can image different types of tissue. More traditional forms of imaging, such as X-rays, are limited in how much tissue they can image. MRI scans can image more types of tissue, nerves, spinal fluid, and muscles without ionizing radiation.
What makes our MRI different?
The MRI system at Youngstown Orthopaedic Associates was designed with patients' safety and comfort in mind. Developed by GE Healthcare, it features compact, advanced coils, meaning the MRI experience is much more comfortable. It is also more accurate, which reduces the need for rescanning that is often necessary with older systems.
Our MRI has the American College of Radiology (ACR) gold seal of accreditation, which is awarded only to MRI facilities that meet stringent technical requirements.
YOA's magnetic resonance imaging system is a Signa HDe 1.5T, a high-definition unit that offers comprehensive capabilities and a platform for the future of MRI applications.
This system provides our physicians with advanced image clarity. It is used routinely for:
Spine studies
Orthopedic – including elbow, wrist, hip, knee, foot and ankle
Pelvis – male and female
Abdominal
Specialized vascular applications
Neurological/Brain Imaging
Our technology offers several patient benefits, including a safer testing experience, more room, increased accuracy that minimizes the need for rescanning and a more confident diagnosis.
"Our imaging department has refined scanning protocols that allow us to collect all the necessary images other facilities may not perform, which enables our physicians to more efficiently diagnosis and treat our patients," said White.
There are other advantages for patients using our MRI services. Physicians receive a report within 24 hours which allows for a faster diagnosis. We also have the technology to offer subspecialty interpretations of the images through Radisphere. YOA's imaging staff is experienced and highly trained. All technologists are ARRT-registered, with extra credentialing in magnetic resonance imaging.
For more information about our MRI services or to schedule an exam, call 330-758-0577, extension 1123.