When we are healthy and have the ability to walk without pain or hindrance, it's easy to take that basic task for granted.
However, Dr. James Jamison, an orthopedic surgeon at Youngstown Orthopaedic Associates, has long been passionate about helping those with pain and limited mobility get back to an active lifestyle.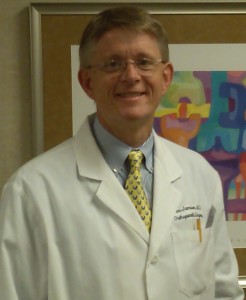 "I found a significant interest in problems related to one's ability to walk, determining why a person limps or has difficulty getting around," explained Dr. Jamison, who specializes in hip and knee replacement surgeries at YOA. "The mechanical aspects of a patient's gait, why it might be abnormal and how to correct problems have always attracted my attention. This curiosity eventually developed into a career as an orthopedic surgeon."
"The most rewarding part of my job is seeing a joint replacement patient in follow-up who previously had significant hip or knee arthritis with great difficulty in getting around, now walking with no trouble."
Dr. Jamison joined YOA's practice in 1997 after learning of the opportunity through his association with Youngstown native Dr. Joseph Stefko and Dr. Les Schwendeman, a residency classmate at University of Pittsburgh Medical Center.
"This position seemed to be a good fit for my interest in joint replacement surgery as the group was growing to include different orthopedic sub-specialties," said Dr. Jamison. "In addition, the Mahoning Valley appeared to be a nice place to live and to raise my young family."
Dr. Jamison sees patients dealing with hip and knee arthritis, as opposed to traumatic injuries. He says it is extremely important for adults to remain active while selecting activities that are protective to the joints in order to avoid a potential injury. He maintains that as long as someone has no joint complaints, there is no reason to limit any exercise or activity that is enjoyable.
"Generally speaking, running is not a good idea for a person with hip or knee pain," he advised. "Better choices for exercise include riding a regular or stationary bike or using an elliptical trainer. Swimming is great exercise, with a good cardiovascular workout while unloading sore joints in the water. Activities such as stretching and maintenance of joint range of motion are crucial to preserving healthy hips and knees."
Dr. Jamison believes that YOA offers its patients tremendous advantages when it comes to providing the region's best orthopedic care. One such benefit is the practice's ability to offer comprehensive care on its conveniently located medical campus.
"The highly capable and well-trained staff at YOA is a great benefit to the patients, as well as to the doctors," he explained. "Our ability to provide many services in one place, including physician visits, physical therapy, X-ray, MRI and bracing, makes YOA an ideal place for our patients.  We are fortunate to have most orthopedic sub-specialties represented in our group, all fellowship-trained, providing the broad spectrum of orthopedic care."
YOA's state-of-the-art technology also allows Dr. Jamison and his colleagues the opportunity to provide the latest and greatest treatments. He says that hip and knee replacements have become more durable and last longer, meaning less repeat surgeries.
"Digital technology has improved our X-rays and now is a major part of our daily lives via electronic medical records, both of which make access to information much easier," he said. "What has not changed is the desire to treat each patient as an individual and to provide the best orthopedic care possible, every day, right here in our community."
Dr. Jamison enjoys the opportunity to make a difference in the health of his patients and after many years as an orthopedic surgeon, making an impact never gets old.
"To improve patients' quality of life by enabling them to walk with little to no pain is extremely gratifying," he said. "Today, we have more and more patients who are either older but still in good health, who want to be active but are limited by hip or knee arthritis. Or, they are young and have their productivity hampered by arthritis.  Playing a role in helping to restore them to an active lifestyle is very rewarding."
Outside of the office, Dr. Jamison enjoys spending time with his wife, Jamie, and being involved in the community. The couple has a son in college and two daughters in high school. Dr. Jamison likes to golf, travel and stay in shape through various types of exercise.