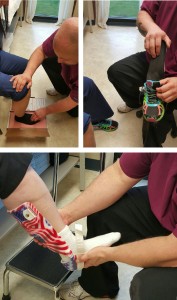 One important aspect of orthopedic health is the use of specially fit braces that support the proper position of many bones and bone systems, from the neck and shoulder to the foot and ankle.
As the surgery team at Youngstown Orthopaedic Associates has grown, so have our capabilities for custom-fitting these braces and appliances to meet the specific needs of patients. YOA provides these services every day.
In the past year, a partnership with a prominent orthotic and prosthetics supplier has enabled YOA to provide quality, convenient and competitively priced orthotic and bracing services to patients with foot and ankle challenges.
Here are three advantages that custom orthotics and ankle braces can provide:
They can address a wide variety of problems with the foot, ankle and knee.
Among the devices used most frequently at YOA are custom orthotics, which slide into shoes to reposition bone in the feet, and ankle-foot orthoses, or AFOs, which are custom-designed braces, says ERIC BUCHMANN, a certified orthotic fitter at YOA.
"Custom orthotics are used for a wide variety of orthopedic problems," Eric said. "They can range from correcting a patient's gait due to medial compartment knee osteoarthritis to offloading a diabetic foot ulcer."
AFOs, meanwhile, can be used to help stabilize an unstable ankle or to help correct an ankle deformity due to past trauma, Eric said.
For most foot and ankle diagnoses, a brace could be prescribed as part of the treatment plan.
They can be integrated with surgery or other treatment.
YOA's orthotics and AFOs are prescribed and fit under the direction of our board-certified surgeons.
"Patients find it much more convenient to have a one-stop shop as opposed to being given a script and to go elsewhere for fittings," Eric said.
They can be cost-effective.
DR. JAMES SOLMEN, foot and ankle specialist at YOA, began exploring the possibility of custom orthotics and ankle bracing several years ago. Although Medicare does not cover the cost of orthotics, YOA can offer them at much less cost than most providers, Eric said.
YOA is now able to provide customer orthotic and AFOs at competitive rates if they're not covered by a patient's insurance plan. The appliances are developed with YOA's partner, Stride Lite, an orthotics and prosthetics company in nearby Akron.
Eric makes impressions for the custom orthotics, casts patients for custom ankle braces and does the fittings as well, all in YOA's offices on Route 224 at Tippecanoe Road.
The impressions or casts are then sent to Stride Lite to be produced by a certified orthotist. The fittings are usually completed in two to three weeks.
"We have had generally positive feedback from the patients who have been prescribed these orthoses," Eric said. "The quality of these fittings is very important to preserving the reputation YOA has earned."
If you're having an issue with foot and ankle orthotics or bracing, ask your doctor to refer you to YOA.