Michael P. Miladore, M.D.
Specialties:
Hand, Elbow, and Shoulder Surgery and Fracture Surgery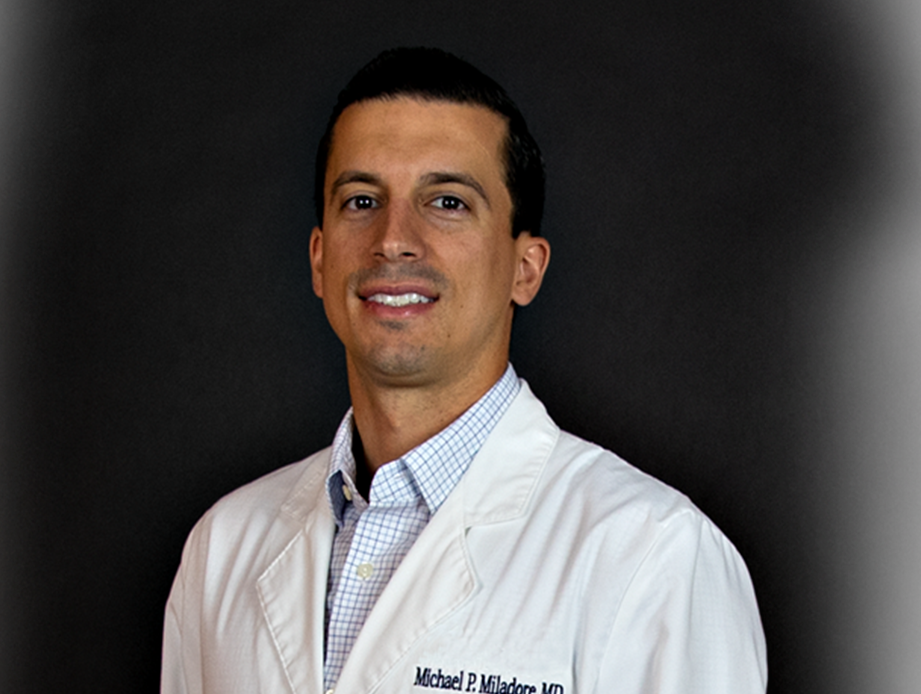 Dr. Michael P. Miladore is a shoulder, elbow, and hand surgeon for adults and children. Before joining Youngstown Orthopaedic Associates in 2016, he completed his orthopaedic surgery residency at the State University of New York at Buffalo from 2010-2015. To specialize in hand, elbow, and shoulder surgery, he then completed the hand and upper extremity fellowship at the State University of New York at Buffalo from 2015-2016.
Dr. Miladore is Board Certified in Orthopaedic Surgery, and is a member of the American Academy of Orthopaedic Surgeons.
Dr. Miladore has completed and published research on wrist fractures, bone graft harvesting, ankle replacements, and hip replacements. He has presented this research at national and local conferences.
Dr. Miladore graduated from Northeast Ohio Medical University with a Doctor of Medicine degree in 2010. He graduated Summa Cum Laude from Youngstown State University with a Bachelor of Science degree in 2006 and was also the student commencement speaker. He graduated from Canfield High School as valedictorian in 2004.
Dr. Miladore currently resides in Boardman, Ohio, with his wife, Cherri, and daughter, Penelope. He enjoys spending time with his family and friends, golfing, and exercising.
Dr. Miladore is accepting new patients with most Medicare, Medicaid, Commercial, and Worker's Compensation insurances. He has privileges at surgery centers and hospitals in Mahoning and Trumbull counties.
Dr. Miladore has office hours Mondays and Thursdays in Building A in Canfield and Wednesdays in Howland. His office number is 330-758-0577. His scheduler's extension is 1523. For the Canfield and Howland office addresses, please click on the "Locations" tab at the top of the screen. His operative days are Tuesdays and Fridays.


"Dr. Miladore performed a total reversal shoulder replacement of my right shoulder on the week of Thanksgiving. Mike is a wonderfully gifted and dedicated surgeon."
– Anthony


"Dr. Miladore saved my fingers after a terrible saw accident. Very nice, very professional. Great doctor . All the staff at the office and the surgery center have been fantastic. Thank you very much!!!"
– Bob


"Excellent doctor! I am seeing Dr Miladore for an issue I am having with my left hand. He is knowledgeable, thorough, compassionate and friendly. Dr Miladore takes the time to explain the condition and types of treatment pros and cons. In this age of hurrying patients in and out, I don't feel like just a number or rushed. I highly recommend Dr. Miladore."
– Laurie


"Dr Miladore is a great hand surgeon. He is very accommodating to his patients and extremely efficient. I would highly recommend him."
– Chelsee


"I needed to have Carpal Tunnel surgery on my wrist. Pain and numbness. I was so pleased to have Dr Miladore do my surgery. He was extremely professional and he is a highly skilled surgeon. I recovered very quick with full relief of pain and the numbness is completely gone. I am a RN with many years of experience and I wanted to share my positive experience with anyone in need. Best of all I barely have any scar. Great overall experience."
– Lisa
Credentials
Undergraduate
Youngstown State University, Youngstown, Ohio
---
Graduate
Northeast Ohio Medical University, Rootstown, Ohio
---
Postgraduate Training
Residency: State University of New York at Buffalo, Buffalo, New York
Fellowship: State University of New York at Buffalo, Buffalo, New York
---
Board Certifications
American Board of Orthopaedic Surgery
American Academy of Orthopaedic Surgeons
YOUNGSTOWN ORTHOPAEDIC ASSOCIATES
Warren Office


1695 Niles-Cortland Road, N.E.
Warren, Ohio 44484
THE ORTHOPAEDIC SURGERY CENTER