Youngstown Orthopaedic Associates Welcomes 2 New Surgeons, Drs. Michael P. Miladore and K. Seth Kuwik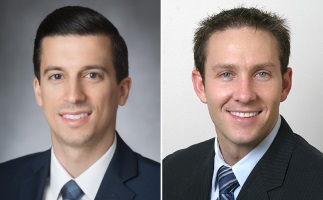 Youngstown Orthopaedic Associates, Ltd., the Mahoning Valley's largest orthopaedic surgery practice group, today announced the addition of two orthopaedic surgeons, Drs. Michael P. Miladore and K. Seth Kuwik. Both are accepting new referrals.
"Attracting two new specialty-trained orthopaedic surgeons to Youngstown Orthopaedic Associates further improves the excellent orthopaedic care provided at our local hospitals and in the community," said Dr. James P. Jamison, a joint replacement surgeon and partner of YOA.
"Dr. Miladore adds expertise in procedures of the hand and upper extremities. He is a Mahoning Valley native and the son of retired orthopaedic surgeon, Dr. Michael J. Miladore.
"Dr. Kuwik adds to our expertise in knee and hip injuries and total joint replacement. With these additions, our YOA team has grown to 12 surgeons. YOA continues to offer quality therapy and imaging services in support of our surgery practice."
About Dr. Miladore
Dr. Miladore has spent the last year in a hand and upper extremity fellowship at the State University of New York in Buffalo, N.Y., where he also completed his residency in orthopaedic surgery.
Dr. Miladore has been published in international orthopedic journals. He also presented research papers at last year's annual meetings of the Clinical Orthopaedic Society and the American Association of Orthopaedic Surgeons (AAOS).
Miladore was valedictorian of Canfield High School's 2004 graduating class. He graduated summa cum laude in 2006 from Youngstown State University with a bachelor of science degree. He then completed medical school at Northeast Ohio Medical University in 2010.
He is a member of the AAOS. Dr. Miladore is married and enjoys golf and working out.
About Dr. Kuwik
Dr. Kuwik, a native of the Dayton area, attended college at Lipscomb University in Nashville, Tennessee.   As an undergraduate he excelled in athletics, particularly baseball, which sparked his interest in knee, hip and sports-related injuries.
He graduated with a bachelor of science degree from Lipscomb in 2005 after four years as a starter on its NCAA Division I baseball team. He won several honors, including being named an ESPN The Magazine District IV All Academic All American in 2005.
After receiving his doctor of medicine degree in 2010 from the University of Toledo, Kuwik took part in an orthopaedic surgery residency at the State University of New York at Buffalo, N.Y. He recently completed a fellowship in adult knee reconstruction at Lenox Hill Hospital in New York, N.Y.
Kuwik also is a member of the AAOS. He is married, has two daughters and enjoys softball, flag football, snorkeling, skiing, traveling and working out.
About YOA
Youngstown Orthopaedic Associates offers complete orthopaedic surgery services.  Its 12 board-certified or board-eligible orthopaedic surgeons make up the largest orthopaedic surgery practice in the Mahoning Valley. Surgical services include hip and knee replacements, sports medicine, spine, hand and upper extremity, foot and ankle and fracture management. YOA also offers physical therapy, hand therapy and X-ray and MRI imaging services. Offices are located at 6470 Tippecanoe Road in Canfield and 1499 Boardman-Canfield Road in Boardman. More information is available at www.youngstownortho.com.