These are stories about successful recoveries of Youngstown Orthopaedic Associates patients. Scroll down and you might find someone you know. Would you like to share your recovery story? If so, please click here.
Patient credits YOA for return to active lifestyle
Two years ago, severe pain in both knees and his back made just standing up a challenge for Randall Taylor. But thanks to the care he received at Youngstown Orthopaedic Associates, he's back to living an active lifestyle.
His recovery has gone so well that Randall was recently able to travel to Arkansas to attend his grandson's high school graduation. That was a treat for his son's family, whose home was damaged in April when a tornado touched down in their hometown of Mayflower, Ark.
"We were able to be there for Garrett's graduation and also see the damage to their home and others," said Randall, whose wife, Ellen, also made the trip. "The tornado hit their home on April 27 and he graduated on May 13. Thanks to Dr. Jamison and Dr. Picha, my health allowed me to make the trip – they are great doctors.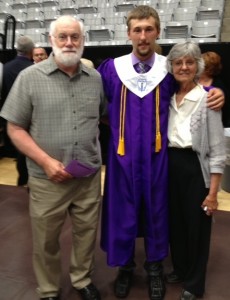 Thanks to his good health, Randall Taylor and his wife, Ellen, were able to travel to Arkansas for the high school graduation of their grandson, Garrett.
"They've taken really good care of me," said Randall, who underwent two knee surgeries and back surgery at YOA. "They were very attentive and caring and were willing to do what they needed to do to help get me fixed up and back on my feet. I'm getting around pretty well now."
Before first visiting YOA in October 2012, Randall had endured more than his share of pain. He was having problems with both knees, and back issues made living an active life very difficult.
His back pain was so severe that it required him to get injections to find relief. He had a series of three shots; the first two helped, but the third did not.
Randall previously had right knee replacement surgery and was seeing Dr. Jamison because of pain in his left knee. They had scheduled replacement surgery and were prepared to go through with it, but had second thoughts because of Randall's back problems.
"Dr. Jamison was concerned that my back issues would interfere with my ability to complete therapy if we did left knee surgery then," explained Randall. "So the night before the scheduled knee surgery, I went back to talk to him about it. He recommended that I see Dr. Picha about my back first."
Randall's appointment with Dr. Picha and two MRIs confirmed that he was a candidate for back surgery to take pressure off the nerve that was causing excruciating pain. The procedure was done in April 2013 and the results were very positive.
"I have relief so far," said Randall. "I can actually straighten up to walk again. I wasn't able to do that for quite a while before the surgery. Because of arthritis, I know I'll never be totally pain-free, but at least I'm upright again. I'm pretty happy with how Dr. Picha treated me."
With his back feeling better, Randall elected to have his left knee surgery with Dr. Jamison last November. He spent Thanksgiving weekend in the hospital recovering, but appreciative of the care he's received at YOA.
"He [Dr. Jamison] offered not to do it during the holiday, but I just wanted to get it done," said Randall. "The surgery went well and I've done pretty well in recovery. It was a long, cold winter and I wasn't able to do too much, but I'm looking forward to getting back to doing some mowing and helping at the church camp in Lisbon that I used to volunteer at. I have no complaints at all with the service or how I've been treated."
Randall Taylor
Columbiana, Ohio
July 2014
Hip replacement restores quality of life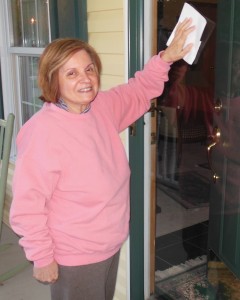 Life was very difficult for Linda Roncone. With two bad knees, getting around was next to impossible. Add to the equation an ailing right hip and life was downright depressing.
During trips to the grocery store, she had to use a motorized cart. For work at a copy shop at Youngstown State, she was transported from the parking lot to the building by wheelchair.
That was her old life. Her new one, thanks to her experience at Youngstown Orthopaedic Associates, is free of any walking aids.
Linda had her right hip replaced in July 2012 by Dr. David Weimer, a surgeon at YOA.
"You'd never know I had hip surgery – I was feeling as good as new," said Linda. "He gave me my life back – I can go anywhere and be able to get around. Dr. Weimer is the man. We are so blessed to have a great doctor like him in this area. He is the example of how a great doctor should be."
Before having her hip replaced, Linda had seen Dr. Joseph at YOA who replaced her left knee and was looking to do the same with her right knee afterward. But knowing that Linda was having trouble driving, walking, doing yard work and other tasks, he suggested that she also have her hip evaluated. She appreciated Dr. Joseph's concern and recommendation.
"I was in misery," Linda explained. "Prior to surgery, I couldn't get around and I couldn't sleep well. The pain took over all aspects of my life. I asked a lot of people about Dr. Weimer and everything I heard was positive. Usually with doctors, you hear some good and some bad, but not with him – everyone praised him. That put me at ease and I was confident that I'd get excellent care from him."
Linda's faith in Dr. Weimer was rewarded, as the surgery went well and her recovery was smooth. In addition to having the freedom to get around afterward without hindrance, she was impressed with the approach of Dr. Weimer and the rest of the YOA staff.
"Everyone was wonderful," Linda said. "The morning of the surgery they brought me into a room to get me ready and my family was there with me. Then, I was amazed when Dr. Weimer walked in to talk about the surgery and visit with my family. That really showed me that he cared about me as a person and that I wasn't just another surgery on his schedule. Dr. Weimer and the whole staff was extremely accommodating and the equipment was state-of-the-art."
The surgery went much more smoothly than Linda had thought it would and the initial pain disappeared quickly. When the staff checked in on her in the days following the procedure, they inquired about her level of pain.
"They asked me 'What's your level of pain?'" explained Linda. "My answer was 'What pain?' I walked right away and I couldn't believe how I felt. I was amazed to not have pain. Afterward, it was like I was 16 again. You'd never know I had a hip replaced. It was amazing. I really can't say enough great things about Dr. Weimer, my experience and the whole YOA staff."
Linda Roncone
Youngstown, Ohio
March 2014
Shoulder surgery puts golf pro back on course
When you play and teach golf for a living, a bum shoulder is about the last injury you can afford to suffer. So when Tippecanoe Country Club golf pro Michael Spiech hurt his left rotator cuff, he knew treatment would be inevitable.
"It was just the result of a lot of wear and tear from golf over the past 30 years," said Spiech, who suffered for more than a year with the injury. "I had a couple spurs in there that would hit the nerve and cause pain. It was my left shoulder, which in golf is my lead shoulder. Being a pro athlete, you're really putting your career in someone's hands for this surgery."
After finally putting off treatment, Spiech didn't have to look far for a qualified doctor to take a look at his injury. He had heard about Youngstown Orthopaedic Associates' Dr. Joseph Stefko and scheduled a consultation to see how severe the damage was.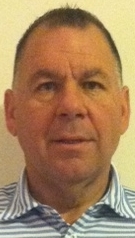 After examining the rotator cuff, Dr. Stefko recommended surgery. The procedure was done in September 2012. In addition to a full-functioning shoulder, Michael also came away with a favorable impression of YOA.
"The whole place was just so impressive," said Michael. "The facility was awesome and the procedure went so smoothly. From the time I walked in the door to the time I left, they treated me great. I'd highly recommend them to anyone. Dr. Stefko really knew what he was doing. I even told him he could put me on a billboard if he wanted to."
According to Spiech, the surgery enabled him to regain full range of motion in his shoulder and play without pain once again. It's been more than a year since the procedure and he's back on the course teaching others the game.
Michael Spiech
Canfield, Ohio
October 2013
Partial knee replacement makes travel fun again
Margaret Minghetti of Mineral Ridge was in her mid-60s and dealt with knee pain for years.
The retired high school guidance counselor went on a tour of Italy and Spain with friends in 2008, but ended up in a wheelchair for most of the trip when her knee pain made it too difficult to walk. A few years later, she went with a group of friends to Washington D.C. and had a similar experience.
"My knee bothered me the whole time and I had to choose activities that didn't involve walking," she said. "I knew right then something needed to be done."
Minghetti had been seeing Dr. David Weimer for a few years because of the pain in her left knee, but was reluctant to pursue surgery in favor of less-invasive procedures. But Dr. Weimer identified her as a candidate for a partial knee replacement, saying the best candidates are those with arthritis confined to a specific area, 55 or older, non-obese and having intact ligaments.
Partial knee replacements are less invasive than total knee replacements and typically have a faster recovery time for patients.
"The X-rays, combined with where my pain was and the fact I was still active and not overweight helped him make the diagnosis," Minghetti recalled.
According to Minghetti, post-surgery recovery went very well. The procedure was done on a Thursday in August 2011 and she was home on Saturday. After seven weeks of rehab and physical therapy, Minghetti was back to her regular routine with very little pain.
Besides being able to get back to her active lifestyle, Minghetti appreciated the ability to sleep through the night without pain. She reported that she wasn't waking up at night and was pleasantly surprised how little pain was involved in her recovery.
Margaret Minghetti
Mineral Ridge, Ohio
March 2013
Back to bowling, without the pain
After learning to live with knee pain for many years, 82 year-old Arthur Cooksey of Canfield, Ohio, was pleasantly surprised after he finally decided to have surgery. He was a candidate for a partial knee replacement, a less-invasive, faster-recovery alternative to total knee surgery.
"My knee pain goes back to my high school football days," Cooksey said. "I put up with it for a long, long time, and now I'm an old man, of course."
Cooksey had finally had enough when his bad knee started affecting his bowling performance. It kept going out on him during his weekly league at Amron Lanes, so he said it was finally time to address it. Cooksey went to see Dr. David Weimer at Youngstown Orthopaedic Associates.
"He told me before surgery I may be among the 10 percent or so that could do a partial knee replacement," Cooksey recalled.
Partial knee replacements have regained favor due to recent advances made in identifying the most appropriate candidates. This has translated into greater success and longer-lasting, positive results.
The former Culligan Water salesman is back to his bowling league and continues to work three days a week for a local automobile dealership.
"My knee never gives out anymore," Cooksey said a few months after his February 2011 surgery. "I'm very happy with it. I'm glad I finally addressed it. Anyplace I want to go, I go. Nothing slows me down. It will make my next 20 to 30 years better than before."
Arthur Cooksey
Canfield, Ohio
March 2013
Knee procedure has Pezzano back on his feet
Sal Pezzano was following his daily workout routine in December 2010 when he felt his knee pop. He was jogging on a treadmill until he felt "like I was shot in the knee." He went to a local emergency room, but didn't get much satisfaction.
Pezzano, 77, of Niles, Ohio, left soon after the injury to spend the winter in Florida. A physician there told him it was a meniscus tear that needed to be repaired. The normally active senior missed out on the activities he usually enjoys in Florida because of the knee pain, instead spending most of the time on the couch.
When he returned to Niles in the spring of 2011, he was referred to Youngstown Orthopaedic Associates by a friend and asked for the first doctor available.
"I saw Dr. David Weimer and he was a wonderful doctor who did me a lot of justice," Pezzano said.
After an exam, Dr. Weimer determined there was actually damage to both knees, and he identified Pezzano as a candidate for the less-invasive partial knee replacement procedure. Dr. Weimer said the best candidates for partial knee surgery – a less-invasive and faster-recovery alternative to total knee replacements – are those with arthritis confined to a specific area, 55 or older, non-obese and who have intact ligaments.
Because of past heart health issues, Pezzano's knees were repaired in separate procedures, but it's not uncommon to have them done together.
"My knees were so bad I couldn't even swing a golf club, and I was someone who played four or five times per week," Pezzano said. "But now both knees feel absolutely great. My buddies who've had total knee replacements are surprised I'm back on my feet so quickly."
Pezzano pushed himself through rehab and is back to working out almost daily. His routine includes elliptical machine, bike, treadmill, upper body weights and golf, and he credits Dr. Weimer for restoring his active lifestyle.
Sal Pezzano
Niles, Ohio
March 2013